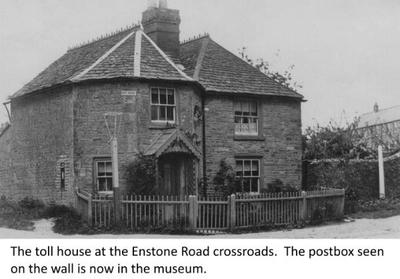 The History of Charlbury through ….. turnpikes and toll houses
Judy Dod for Charlbury Museum
We often grumble about potholes in the road today, but in past centuries road users often had to negotiate thick mud, deep ruts and gaping holes. Some roads were impassable for months at a time. Road maintenance was the responsibility of the parish they passed through and heavily used roads were expensive to maintain and often neglected. The Turnpike Acts were introduced to raise money to build and maintain better roads.
In 1800 a Turnpike Trust was established for the area around Charlbury, strongly supported by the Albright family. Two new turnpike roads came into the town. One came to Charlbury from Witney through Hailey, Ramsden and Finstock and then on to Enstone and Great Tew, eventually joining the turnpike to Banbury at Swerford Heath. The other took a new route from Woodstock, turning off the road to Enstone at the Marlborough Arms, passing through Charlbury at Fiveways, crossing the river at Dyers Hill Bridge, and eventually meeting the Chipping Norton to Burford turnpike. The Trust had roughly 30 miles of turnpike roads.
Jesse Clifford wrote: "Charlbury, when the Turnpike Roads were formed, established Carriers to Oxford, Saturdays: Banbury, Mondays and Thursdays: Witney, Thursdays: Burford when occasion warranted. ….. London could be reached in the day by going to Enstone, and by coach from there. Twenty-five coaches passed through Enstone, up or down, every day." *
The collection of tolls was put up for auction and went to the highest bidder, who assumed he would collect more in tolls and make a good profit. (See the advertisement from Jackson's Oxford Journal, 1811 for how much money could be made.) Locked gates were placed across the roads and toll houses were built for those responsible for collecting the tolls.
Charlbury had three toll houses. One at Baywell (on the corner of Fiveways now occupied by Hydac) controlled both the Witney and Woodstock turnpikes. The second still stands on the corner of the Enstone road opposite Hazeldean and controlled travellers to and from Enstone. The third was built on the Dyers Hill bridge and is still there though much altered. Toll houses had many windows so the collectors could view traffic approaching from different directions, and porches or deep eaves protected them from the worst weather. Boards displayed the toll charges which varied for horses, carriages and wagons. The roads were disturnpiked in 1877 and from 1888 main road maintenance passed to County Councils.
* Jesse Clifford: 'My Reminiscences of Charlbury', written 1891-2.
Janet Jeffs · Sat 29 Aug 2020, 09:20 · Link