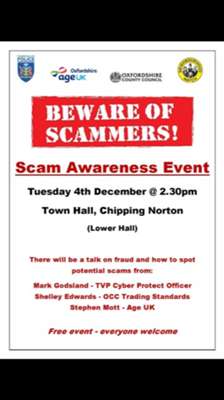 Scam awareness
Sadly Scams are on the increase and ANYONE can fall victim to them. Scammers and fraudsters are incredibly clever!
Representatives from Thames Valley Police, OCC Trading Standards and Age UK will be talking about how to spot potential scams and prevent fraud.
Please come along, it will be really informative and the advice given will be invaluable. We look forward to seeing you there.
Wesley Smith · Fri 30 Nov 2018, 15:10 · Link