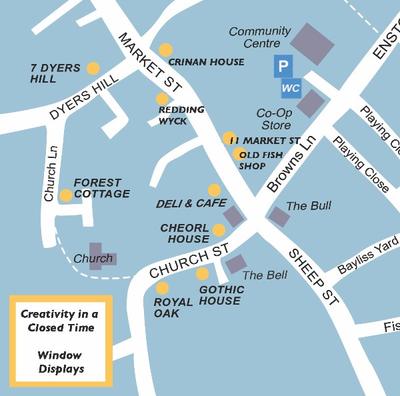 Creativity in a Closed Time
Charlbury's artists have been keeping busy during the past few months of lockdown despite the challenges it has presented. 
It has not been possible to exhibit work, to go to galleries or to meet with others to exchange creative ideas. 
 However twenty-five Art Society members have entered work for Creativity in a Closed Time, an exhibition of paintings, prints, sculpture and photographs made during lockdown. 
The work will be on shown in the windows of ten locations around town throughout August. 
Start at The Deli where you will see a colourful cock and hen by Eleanor Clutton-Brock and a fiddle playing cow by Isabel Knowland. Isabel is also exhibiting prints and sculpture in The Deli throughout August. 
Leaving fortified by a coffee, turn right and head down Church Street. Just past the Rose and Crown is Cheorl House with paintings and prints by four artists. Cross the street to find Gothic House with Briony Lawson's sculpture. 
A couple of doors further down is Royal Oak with four artists including a wood carving by Hallam Duckworth who is exhibiting for the first time. Carry on through the churchyard to Church Lane. Look out for Forest Cottage on the right with paintings by Maureen Sparling and Susan Woolley, then continue on to Dyers Hill. 
At the top is Catherine Binnie's sculpture and painting. Turn right into Market Street passing Crinan House showing David Pollock's watercolours. A little further on the right is Redding Wyck with a linocut by Jody O'Reilly and paintings by her children Jack and Megan. Continue along Market Street ending the trail at No 11 and The Old Fish Shop. 
Charlbury Art Society would like to thank everyone who has allowed the use of their windows. We hope to be back in the Cornbury Room at the Bell Hotel in October for our next exhibition on the theme of Displacement.
Tony Lloyd · Mon 3 Aug 2020, 22:08 · Link