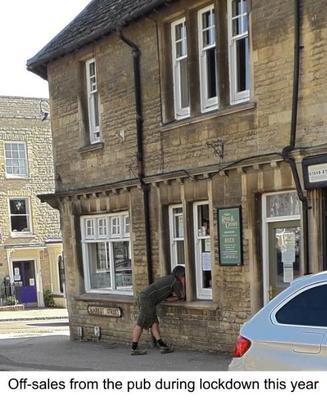 The History of Charlbury through .... the Rose & Crown pub
Ann Lovett for Charlbury Museum
Charlbury has had many inns and alehouses in its past. Some live on in name only, now houses, such as The White Hart (closed in fairly recent memory) and The Royal Oak. Others have disappeared altogether having been demolished, like The Star, The Golden Ball and The Red Lion. Others, for example The Mason's Arms and The Marlborough Arms, have become residential houses with new names.
One inn that has survived the centuries is The Rose and Crown. Its name is thought to date from the time of the end of the Wars of the Roses, referencing the marriage of Elizabeth of York and the Tudor King Henry VII in 1486. We don't know the original date of the Rose and Crown but Lois Hey in her History of Charlbury tells us the first written evidence was in 1688 in the deeds of the old Barclay's Bank, now the Deli. In the will of Mr Edward Dowsett, proved 1698, he leaves The Rose and Crown, run by his brother Robert, to his son Edward. It is also found in later wills, like that of Nicholas Wrenford (proved 1765), and then, from the C19, inns are some of the few properties identified by name in the census returns. For example Francis Grace was landlord in the 1841 census, Stephen Langford in 1911.
A notice of sale in the 1865 Oxford Journal tell us a little more about the Rose and Crown at that time. It says ……old-established and well known family hotel, with the coach-houses, stables, granaries, and other outbuildings…..
In 1905 the jewellers shop in Church Street, next to the Rose and Crown, caught fire, and the brewery Clinch and Co of Witney, who were then the owners, took the opportunity to demolish and rebuild, incorporating a new Post Office (now Cotswold Frames).
There was doubt in 1914 about the Rose and Crown having its license renewed. The Banbury Guardian reported there was opposition to the renewal of the licenses of the Rose and Crown and the Oxford House, in Market Street. It was said they weren't needed as there was a public house for every 119 persons in this village(!!!!) The committee decided in favour of the Rose and Crown.
It has been called the Rose and Crown for most of the time, sometimes referred to as the Crown, though it was renamed the Charlbury Tavern for a while in the 1970s, before reverting to the Rose and Crown. Long may it remain as such.
Thanks to Charlbury Historical Research Group for the information obtained from wills.
Ref: Lois Hey A History of Charlbury (available from Charlbury Museum)
Douglas Rudlin The Life and Times of the Inns, Taverns and Beerhouses of Charlbury, Oxfordshire (hopefully back in stock at the museum soon)
Contact us through this site if you would like to purchase copies