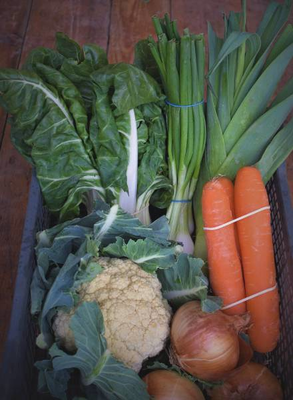 WHAT'S IN SEASON? Rhubarb, potatoes (floury or waxy), curly kale, cavolo nero kale, purple sprouting broccoli, jerusalem artichokes, celeriac, beetroot, parsnips, carrots, swede, onions, apples. The severe frosts in December ruined several crops including cauliflower, calabrese, and chard so this explains their absence.
It's three years since we started the online ordering and weekly collection of farmers market produce from StyanFamilyProduce.co.uk when it was difficult to get to shops or farmers markets at the start of the pandemic. We are so pleased that Charlbury has embraced this way of buying fresh local produce, and many have realised the exceptional value it offers.
Order your produce from StyanFamilyProduce.co.uk and pay online. In addition to a wide range of fresh fruit and veg from Worcestershire, you can also order Stainswick Farm oils and dressings, Charlbury Halcyon honey, preserves, free-range eggs and a range of Smarts single and double Gloucester cheeses. New customers always welcome, just order whatever items you want, there is no minimum spend and no commitment to order every week - just place an order whenever it suits you.
Vegbox collection is SATURDAY MORNING any time between 9.30am and 10.30am, the boxes will be arranged in alphabetical order alongside the community centre. A notification email will be sent out on Friday morning to everyone who has placed an order. 
Please bring your own bag to transfer produce from the box and please return egg boxes and apple juice bottles for reuse.
Bibury Trout decided in December to come back to Charlbury Farmers Market as well as selling online from their shop at Bibury. The online shop delivers to your house but the delivery charge is a standard £9.50.

Styan Family Produce come to Charlbury Farmers Market every 3 months from near Evesham. Early tomatoes are from biomass heated glasshouses. Through the summer we enjoy cherries and plums together with courgettes, broad beans, peas, spinach, chard, salad bags, rocket, spring onions, sweetcorn, beetroot, tomatoes, cucumber, strawberries, etc, etc - all freshly harvested from Worcestershire. The Styan family farm was covered in a BBC1 programme about Farmers Markets on 4 January 2021 - Charlbury collections even get a mention!
Dairy Kefir grains - Available free of charge, please email info@charlburygreenhub.org uk to request some and bring a very small jam jar of milk to take some grains away.
SESI Refills - If you need refills for SESI household detergents then please drop off your clean empty bottles on Saturday morning during the veg box collection outside the Community Centre. These will be refilled during the week and be ready for collection the following Saturday. Any refills dropped off at the Farmers Market can also be collected here.
Repair Network - Small items for repair can be dropped off on Saturday morning during the veg box collection outside the Community Centre but please email repairs@charlburygreenhub.org.uk first to discuss the problem.
Secure Paper Shredding - Collect free sacks for your paper waste from The Cornerstone at The Corner House (open 10-1 Mon-Sat) . The next paper shredding collection will be 6.30-7pm on a Wednesday in May 2023.
Local food suppliers - Check our useful summary of local food suppliers
Organised by Charlbury Green Hub in conjunction with Janet Burroughs from Charlbury Farmers Market, Nikki Rycroft from Patients Participation Group, and Tanya Stevenson from the Community Centre.