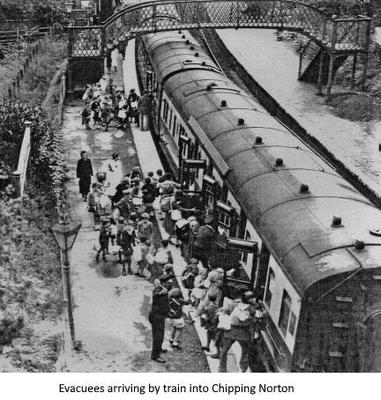 The History of Charlbury through .....child evacuees in WWII
Judy Dod for Charlbury Museum
The Charlbury Society talk on Thursday 5th November will be about the experiences of children in Oxfordshire in WWII – both those already resident and evacuees who arrived in the county. With war imminent in late August 1939, over two million civilians, most of them children, set off in trains and buses on long journeys from towns into the countryside.
The first evacuees arrived here on September 2nd 1939. A group of mothers with infants and expectant mothers arrived in Chipping Norton and 170 were bussed to Charlbury. They arrived, exhausted, at 7 o'clock on a cold and rainy night. The billeting staff struggled to find accommodation for them, especially as they had been promised that families would not be separated.
How did they fare in what was, for many, a very different environment?
Within ten days 23 mothers and 34 children had returned to London. Some were horrified by earth closets and dismayed by the lack of gas cookers and electricity. Some hosts struggled too: one man said that more damage had been done to his house in twelve hours than in the previous eighteen years of his married life! One party had been put up in the Vicarage and every day called on the Billeting Officers and begged to be taken 'somewhere not so posh'.
In June 1940 a party of 47 children and 2 teachers from Shoreditch Central School arrived. Many made lasting friendships with their Charlbury hosts. In September they were joined by 50 children from Ashford in Kent. A club was started for them which met in the Parish Room once a week and continued until 1945.
More arrived when the air raids on London started. Over 200 came between September and December 1940. The large room in the Corner House was prepared as a Refuge until accommodation could be found. Evacuees were housed with many families all over Charlbury. Some houses were requisitioned at different times, including Evenlode Villa, Lee Place Lodge and the Gardener's bungalow, rooms over Mr. Glasgow's garage in Hixet Wood and 2 Dyer's Hill. Towards the end of the war, flying bombs and rockets brought another influx of refugees. By 1946 most evacuees had returned home but some decided to stay and make Charlbury their permanent home
Charlbury Society talk: Children's Experiences of WWII in Oxfordshire
Thursday 5th November 8pm by Liz Woolley
Not yet a member of the Society? Please contact Susan Merry at susanmerry2@gmail.com to join and attend the meeting. Annual sub £8.50/£17 single/joint membership