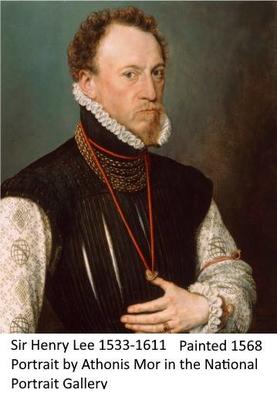 The History of Charlbury through ... Sir Henry Lee
Sir Henry Lee was born in Kent in 1533. At the age of 14, he began serving Henry VIII and continued under three more Tudor monarchs and the first Stuart king. He managed to survive those turbulent years of political and religious upheaval without ever being imprisoned in the Tower of London – no mean achievement. He was one of Queen Elizabeth's leading courtiers and favourites and undertook tasks of state at home and abroad. His role was often to provide entertainment. For many years from 1570 he was Elizabeth's jousting Champion, and devised and oversaw the Accession Day tilts which became a huge public spectacle and the most important court festival of the 1580s. The last one was held in 1602, the year before her death.
In 1580, Sir Henry Lee bought the Ditchley estate following his appointment as Ranger of Woodstock, one of several Rangers who looked after the royal hunting forest of Wychwood. He enlarged the existing house though no trace of it now remains: it was demolished in 1720 and replaced by the fine 18th century mansion we see today. It is not even known exactly where his house stood.
In 1592 Sir Henry played host to Queen Elizabeth when she visited Ditchley for a two-day masque. These were the days when the monarch would 'progress' round the country in the summer, staying with her titled subjects at their expense. It was a great honour but came at enormous cost to her hosts. She travelled with a huge retinue of courtiers and servants, all of whom required accommodation and food, as well as entertainment. The Queen's visit in 1592 marked reconciliation between her and Sir Henry after a cooling in their relations but cost him dearly. In 1602 he was horrified when it was proposed that the Queen stay again with him again on her summer progress. It is said he immediately wrote to Robert Cecil, the Queen's Councillor, saying that if she came, he would be bankrupted. There are limits to a subject's devotion.
After his wife's death in 1590, Sir Henry lived openly with his mistress, Anne Vavasour who was nearly 30 years his junior. It seems to have been a true love match. He left her a generous annual income in his will when he died in 1611.
Charlbury Society talk: Thursday 4th February via Zoom 7.45 for 8pm
Dr Janet Dickinson: 'Courting Elizabeth: The Ditchley Portrait and the Cult of the virgin Queen in late Elizabethan England'
See the Events page for details. To join the Society contact Susan Merry at sec.charlsoc@gmail.com
Subscription £8.50 Under 18s free