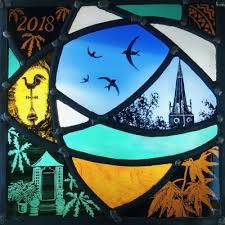 STREET FAIR ARTS & CRAFTS EXIBITION
As part of the Street Fair on Saturday 21st September there will be an Arts and Crafts Exhibition in the Memorial Hall. 
The exhibition will be open from 11.00 - 5.00 and will provide a colourful display for people to enjoy with their tea and cakes.
All artists (not only members of the Art Society) are invited to book screens or tables to display their work.  Charlbury Art Society will put up the screens and tables for participating artists.
Booking in advance by 14th September: Screens £5 for each side, tables - small £5, large £10.
All these proceeds will go to Charlbury Street Fair but artists will keep all their sales takings.
Exhibiting artists will be responsible for hanging their work, pricing and labeling, stewarding during the exhibition and managing sales.
Artists will include Susan Strachan, Marion Coates, Anita Cooper, Sue Woolley, Ken Manners and Anna Gillespie (pictured)
If you would like to participate, please contact Tony Lloyd
Tony Lloyd · Wed 31 Jul 2019, 11:30 · Link