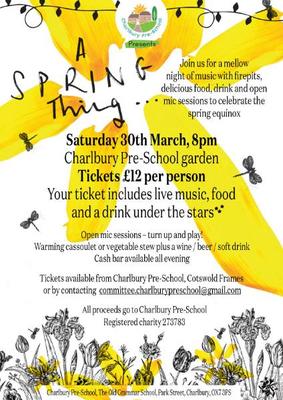 Last minute tickets and menu - Pre-School Spring Party tonight!
It's Charlbury Pre-School's Spring Party tonight! 
We've had lots of requests for last minute tickets so good news is that there will be some tickets available on the door tonight from 8pm. Tickets are £12 each. 
Our chefs have been hard at work prepping the delicious food for tonight's gathering... There will be a choice of Duck Cassoulet or a Vegan Cassoulet with homemade vegetable broth and a herb crumb. Food and a drink is included in the ticket price and a cash bar will also be available. 
The Pre-School garden is looking magic with a firepit and stage area for our musicians (including some of Knights of Mentis, Andy Pickard and other local talent). 
All proceeds got to Charlbury Pre-School which is a charity. See you there! 
jackie daish · Sat 30 Mar 2019, 09:52 · Link