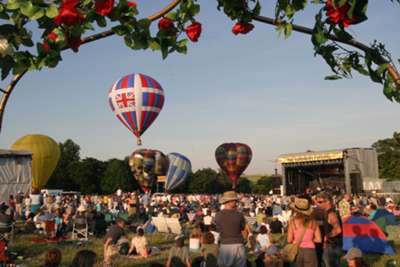 Cornbury Festival - discount tickets go on sale
Anyone wishing to go to next year's Cornbury Festival at Great Tew (5-7 July) might like to know that discounted Earlybird weekend tickets go on sale at 9am on Thursday 29 November. Last year these tickets sold out within days, so people need to go to the website www.cornburyfestival.com or call the ticket hotline 0844 338 0000 promptly if they want to get a discount. It's a pretty good saving - £35 off an adult weekend ticket. For anyone not wanting to drive to Great Tew there will be shuttlebus service going from Charlbury
The line-up won't be announced until next year when the tickets go on general release, but to mark Cornbury's tenth anniversary the Festival Director, Hugh Phillimore, conducted an online survey of previous festival goers asking them to nominate the acts they would like him to invite back and to pick a few new acts too. Armed with this wishlist, he's aiming to pull together a Cornbury's Greatest Hits line up. And, of course, there will be the marvellous Riverside stage at Cornbury too. Riverside will be on at the end of July on the 27th and 28th.

Kathryn Custance · Wed 28 Nov 2012, 09:41 · Link