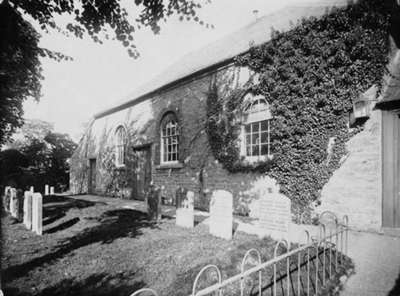 William Jones, Charlbury Quaker
Hannah Jones will talk on William Jones, Charlbury Quaker, to Oxfordshire Family History Society at 8pm at Exeter Hall, Oxford Road, Kidlington, OX5 1AB, on Monday, 28 January. Entrance is free to non-members, who are very welcome. We open at 7:15pm - there are books for sale, advice on family history, and free tea/coffee.
She first came across a partial transcript of the journals of William Jones whilst cataloguing the records of the Witney Monthly (Quaker) Meeting at Oxfordshire History Centre. It quickly became apparent to Hannah that the journals were a valuable, yet virtually unknown, resource for local and non-conformist history. She believed that they deserved to be made available to a far wider audience.
William Jones, the subject of the talk, was born into a family of Quaker weavers in Charlbury in 1761 and remained in the locality until his death in October 1838. In 1784, he began to keep a journal, a habit he kept up until a few days before he died. His journals comprise ten volumes of varying length and contain a startling variety of historical information - from details of his own life and work in Charlbury, to events of national significance.
These journals not only provide fascinating local information such as details of the weather, prices at market, and the quality of the harvest, but are also a valuable source of historical information on the Society of Friends (Quakers). Mr Jones was a committed Quaker who was involved in Meetings at local, regional and national level. He also journeyed to the Yearly Meeting - the annual, national administrative Meeting of the Society of Friends - in London on several occasions. His journal entries regarding the Yearly Meeting even record the route that he took, and the Friends that he lodged with along the way. The journals also provide some fascinating snapshots of how events of national significance, such as public reaction to the Napoleonic war, and the abolition of slavery in the British Empire in 1834, were perceived in a small community in rural Oxfordshire.
Our speaker has now transcribed in full the first three journals of William Jones, which cover the period 1784-1818. These will be published by the Oxfordshire Record Society www.oxfordshire-record-society.org.uk/ in early 2013. Her talk will discuss some of the details of the journals, and their use as a source for family, local and non-conformist history. The wider traditions of Quaker 'journaling' and of the transatlantic Quaker community will also be examined in what is likely to be a fascinating presentation.

Wendy Archer · Sat 26 Jan 2013, 10:14 · Link