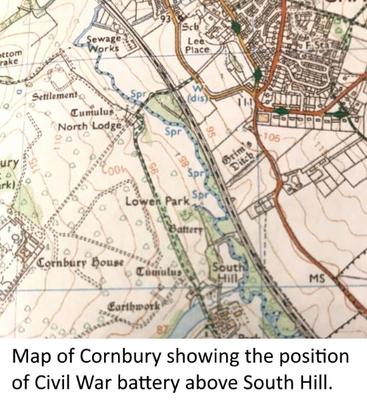 The History of Charlbury through ... the Civil War
The Civil War which lasted from 1642-49 was a divisive and destructive period which split towns, communities and families. People, towns and villages were caught up in it whether they wanted it or not, and Oxfordshire was no exception. It was strategically placed on main routes from London to the midlands and the west, and between Royalist strongholds in the north and west and Parliamentarian areas to the south and east. The first major battle of the war took place at Edgehill north of Banbury and following the battle King Charles set up his court in Oxford and made it his capital, putting the country firmly in the frontline of military action.
While we do not have any reports of skirmishes in Charlbury, the remains of a Civil War battery still exist in Cornbury Park which at that time was owned by the Henry Danvers, Earl of Danby, until his death in 1644. (See map for the location of the battery). Earth banks form three sides of a rectangle with a gap or embrasure to allow for the firing of cannon up and down the Evenlode valley. It was probably constructed in early 1643 as part of the outlying defences of Oxford: there were similar batteries at Woodstock and Bletchingdon.
The people of Charlbury would have shared in the disruption caused by competing armies requisitioning food, by pillaging and raiding by both sides, and heavy taxation to pay for the war. There are gaps in the Charlbury parish registers during the war years implying that normal life was disrupted and it seems that the traditional four-day August fair did not happen. Farming suffered too and Cornbury Park was said to be overrun with rabbits so that the deer suffered from lack of grazing. The influx of soldiers and overcrowding in towns brought disease. It is estimated that 100,000 died of disease in the war years, more than were killed in the fighting.
Large houses were frequently targeted and in April 1646 Woodstock Manor was attacked. It was said that the cannon firing at it could be heard in Oxford, so it was probably audible in Charlbury too. By this time Cornbury had passed into Parliamentary hands and Cromwell's son-in-law General Ireton stayed there in 1646.
Thursday 4th March: Charlbury Society Zoom talk  7.45 for 8pm
Soldiers, Saints & Sinners: Oxfordshire Characters from the English Civil War
A talk by Stephen Barker
A Zoom link will be sent to members. For more information, contact the Secretary sec.charlsoc@gmail.com