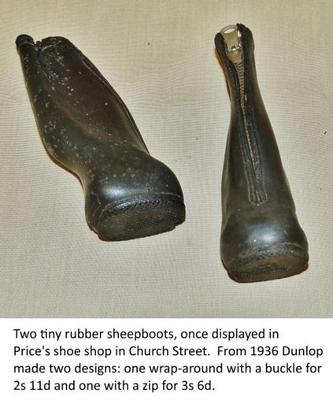 The History of Charlbury .... to be continued
Judy Dod for Charlbury Museum
We have so enjoyed researching and sharing our weekly postings - there have been 30 since we started at the end of March. We have been really pleased with the very positive feedback we have had and are preparing them for publication. The booklet should be ready to buy well in time for Christmas, an ideal stocking filler!
Over the next few months the articles will not appear quite so regularly. We felt it best to take a break and restart the series in the spring. But we are not going away and will post occasional short articles on topical subjects. For example the next Charlbury Society talk is on WW2 evacuees in Oxfordshire and we will be writing about children who were evacuated to Charlbury – some of whom stayed and still live here. So please continue to keep an eye out on Saturday mornings for these.
But so you are not disappointed this week, here is one of the most amusing exhibits in the museum – rubber boots for sheep! These were donated by the late Jennifer Bartlett whose aunt kept them on the counter of Price's shoe shop to amuse children. Made by Dunlop, who patented the design in 1936, they protected sheep's feet from foot rot in the era before antibiotics. They were produced in 5 sizes and came with a set of veterinary instructions. They can't have been easy to put on the sheep so may not have been a best seller!
Did you know of the local connection to Dunlop? In 1897 the whole Cornbury estate was bought by Harvey Du Cros, Chairman of Dunlop. He had co-founded the Dunlop Pneumatic Tyre Company in 1889 with John Dunlop, the inventor of the pneumatic tyre, and the company had recently been sold for three million pounds. He energetically set about improving the estate, clearing ponds and streams, repairing and altering the house, but didn't stay long. His fraudster business associate went bankrupt and he had to put the estate back on the market. Its next owner was Vernon Watney who bought it in 1901.
The big question is: why only two boots? Surely the sheep would need four…….