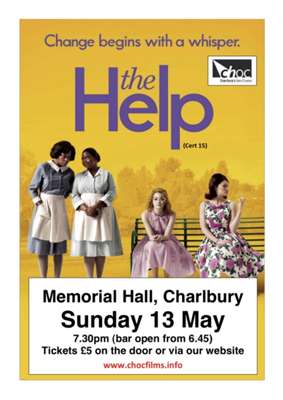 ChOC comes of age
If you were among the audience of 76 who attended ChOC's film last Sunday, 'Tinker Tailor Soldier Spy', you will know that it was the first film ChOC has screened using entirely our own equipment.
It has been our objective for several years to acquire our own projection and sound equipment. We have received grants from Charlbury Town Council (£500), Charlbury Motor Fire Brigade Trust (£500), and Charlbury Community Projects (Charlbury Beer Festival Committee) (£1070) towards the money we have just spent on a projector (£1062), screen (£1038), speakers and stands (£948), sound mixer (£167), monitor (£150) and two Blu-ray/DVD players (£208). ChOC would like to thank publicly the three bodies which helped us to buy those items.
The new equipment is a noticeable improvement on what we have used before; it gives a brighter picture and the clearer sound is better suited to the difficult acoustics of the Memorial Hall. Learning to use it is something we are mastering, and once we are more confident in its use we shall be open to collaboration with other community groups who want to show films in Charlbury.
ChOC lost significant money on some of our recent films, as the charges we were paying as part of the 'Movies on the Move' scheme operated by Chipping Norton Theatre increased sharply. Now we are completely independent, our costs per film are greatly reduced and we can be more adventurous in our programming. We will still show blockbusters when we have seen them and are confident of their quality and their appeal, but we'll be bringing less well-known films to Charlbury too.
ChOC's remit is to 'collaborate' with other community organisations: our small committee is stretched to the limit with what we do at present, and if we are to have an outreach programme (suggestions we have already received include showing films for the CSA, and holding a 'film festival' in aid of the community centre appeal) we need more people on board to run it.
Every year we show at least 12 films and mount 4 or 5 live events, which is a big investment in human effort by a small number of people. To show a film in the evening, perhaps eight people forego anything up to 6 hours of their time on the night itself, and often go without a meal to do so. Preliminary and subsequent work takes up many hours a month for several of us too.
So the more help we get, the more we can do. Why not come on board?
And we look forward to welcoming you to future films.
Jon Carpenter (secretary, Charlbury's Own Cinema -- secretary@chocfilms.info)
www.chocfilms.info
Jon Carpenter · Wed 18 Apr 2012, 20:11 · Link