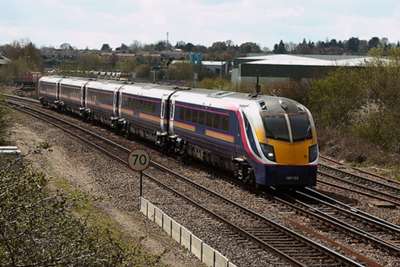 Confirmed: Adelante trains to replace Turbos
First Great Western has confirmed that most of the 'Turbo' trains on the Cotswold Line through Charlbury are to be replaced by newer, more comfortable 'Adelante' trains.
The Adelantes previously worked on the Cotswold Line but were then moved elsewhere, running local services in Manchester, and earmarked for services on the East Coast that never started. They have five coaches, four-abreast seating, and a top speed of 125mph. FGW plans to refurbish them, possibly to include at-seat power points, before they come back into service.
The statement says "Five Class 180 Adelante trains will be leased and refreshed to replace most of the Turbo services on the North Cotswolds line between Worcester and London Paddington." Turbos will still be used on the line for the morning 'halts' train stopping at Finstock and Combe; the three off-peak services between Didcot/Oxford and Moreton; and on most non-HST services at weekends.
They are part of a package of replacement trains due to come into operation over the FGW network between February and September next year. The Adelantes are expected to be introduced between March and July.
(Photo by John Grey Turner, CC-BY-NC-ND. Thanks to William Crossley for additional information.)
Richard Fairhurst · Tue 22 Nov 2011, 10:15 · Link