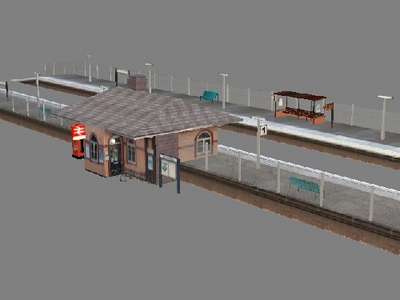 Cotswold Line redoubling plans finalised
Network Rail has announced the final plans for redoubling the Cotswold Line through Charlbury.
The line from Charlbury (just south-east of the station) to Ascott-under-Wychwood will be redoubled in evening engineering work, starting in mid-December. Late evening train services will be replaced with buses. Overnight 'possessions' can also often mean delays to the first trains of the day if they overrun.
The work will include a new westbound platform at Charlbury, plus new lighting and a "real-time digital passenger information system".
The redoubled line will enter service in May 2011. Though the main rationale for the project is improving punctuality, it will also mean three more off-peak services every day between Oxford and Moreton, which are likely to be operated by Turbo trains from Paddington which currently terminate at Oxford. These will help fill some of the current 1hr+ gaps in the service.
The second phase of the redoubling, between Evesham and Moreton, will take place later in 2011 and should mean more off-peak services to Worcester.
Cost overruns forced Network Rail to scale down its original signalling plans. One of the results is that the characteristic signal box at Ascott-under-Wychwood will be retained. Ascott's short platforms will be extended to three-coach length, with more trains stopping there.
The next milestone for the project will be when plans for the expanded Charlbury station are submitted for approval to West Oxfordshire District Council. (The picture accompanying this piece is not a real artists' impression, but a two-platform version of Charlbury station designed for a PC 'train simulator'!)
See also the Network Rail press release and Oxford Mail report.
Richard Fairhurst · Wed 21 Apr 2010, 20:08 · Link