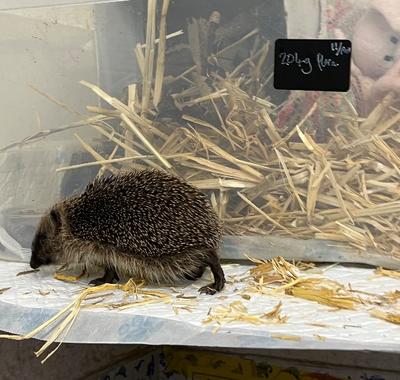 Hedgehogs in every corner 🦔🦔🦔🦔🦔
I opened  the door to the Hegspital this morning to find a little HH sitting staring at me from the shelf.l!! He had managed to escape from one of the temporary plastic crates (lidded!!). We have had so many new little ones they are in all kinds of crates and cages. 8 have arrived in the last week. Not all have made it sadly, as some were too poorly to save. But they are all tucked up here in a cosy hat, with a heat pad (if less that 200g) and some special temping food. They will be with us for a few months as they recover and gain enough weight to survive winter and be released. 
Hedgefund are joining Charlbury Wildlife Society on the 20th November at the friends meeting house 7.30 pm. Come and learning more about current patients and local initiatives to support hedgehogs. This will be a fundraiser £10 on the door, to support running costs.
Pictures below of the naughty escapee and some clean babies after their bath. 

Financial donations can be made referenced 'Hedge Fund' to the 'Charlbury Wildlife account number 77328260 and sort code 30-91-92.
Items for the Heg-spital can be bought via the regularly updated Hedge Fund amazon wish list https://www.amazon.co.uk/hz/wishlist/ls/106KZ9QL76WDH?ref=cm_sw_em_r_un_un_5hE6kOaAe9q8H
Hedge Fund · Sat 18 Nov, 05:11 · Link