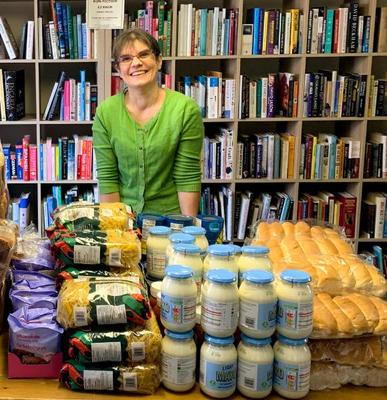 Cornerstone food support
As you may be aware Cornerstone supports vulnerable households in Charlbury who are struggling financially - we link them with Citizens Advice, provide food support for a period of time, and help with specific requests such as school shoes, utility bill top ups and white goods as required.
For our weekly food bags we get surplus food from Oxford Food Hub and SOFEA, and we do a weekly supermarket top up shop. 
Additionally Styan Family Produce, who regularly come to Charlbury markets, have contributed 10% of the sales to Charlbury Green Hub for organising the collection and this income was immediately used to pay for fresh food to go in the food bags. Most recently this has been used to buy 15 boxes of eggs from Church Lane Produce costing £25 each week. With the start of the new weekly market and Styan operating their own stall, the commission will cease and so we are looking for sponsorship to continue buying these. 
If you would like to donate £25 per week to Cornerstone or could meet part of this cost could you get in touch - call Jo on 01608 810230 or email cornerstone@charlburychurch.uk 
You can see more about Cornerstone and details on how to donate at Cornerstone 
If you haven't been in, we are open Monday - Saturday 10am - 1pm, so do come and see what it's all about.