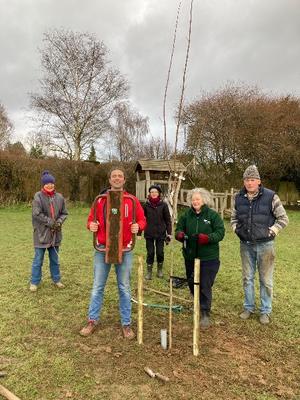 Planting trees on Nine Acres
Thanks to a generous bursary from Wilderness, a hardy and strong team from the CMC Patient Group, the Green Hub , the Garden Society, and Nine Acres management committee, dug and planted three trees last week; a rowan outside the medical centre and an oak and a field maple on Nine Acres. These trees were purchased as a result of applying for the Bursary to mark the late Queen's Platinum Jubilee last summer. We also uncovered a George V 1929 sixpence while digging, reflecting the decade of her birth.
We hope they will eventually provide shade for those using the playground , having thought carefully about the site and the impact of the leaves.
Nikki Rycroft · Sat 28 Jan, 16:45 · Link