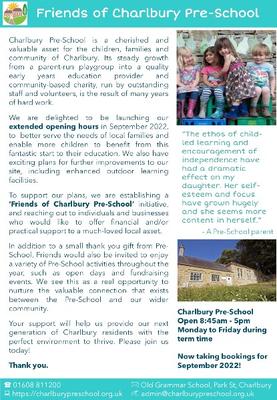 Friends of Charlbury Pre-School
We are delighted to introduce our new "Friends of Charlbury Pre-School" programme!
To support our exciting plans for development of the educational opportunities and facilities we offer to local families, we are reaching out to individuals and businesses who would like to offer financial and/or practical support to a much-loved local asset.
In addition to a small thank you gift, Friends will be invited to a variety of Pre-School activities throughout the year, such as open days and seasonal events. We see this as a real opportunity to nurture connections in our community. Your support will help us provide our next generation of Charlburians with a fabulous environment in which to thrive!
Please do get in touch via the Registration form below, or email us at committee.charlburypreschool@gmail.com
Thank you.
Registered Charity No: 273783
Jill Petersen · Fri 16 Sep, 09:44 · Link