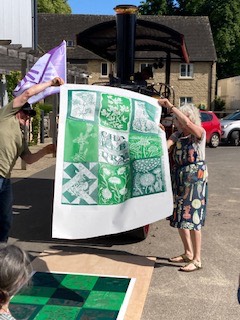 Charlbury Festival Steamroller Printing
The giant prints made with the steamroller are on display in the Corner House.
The two linocut prints are in the ArtRoom and the children's cave painting print is in the Morris Room together with the sketchbook project and the international print exhibition.
Additionally twelve artists are opening their studios each afternoon. 
All open 2-5 Monday-Friday this week
See the map in the festival programme
Tony Lloyd · Wed 15 Jun, 12:09 · Link