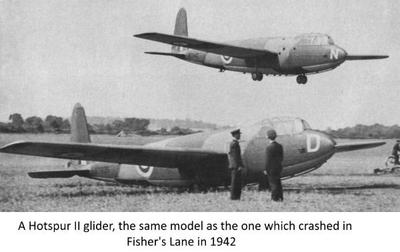 The History of Charlbury through ... a fatal air crash
Judy Dod for Charlbury Museum
Oxfordshire was an ideal place to build WW2 airfields, far enough inland to get warning of German raids, yet close enough to protect London and launch attacks on the continent. New airfields were built in the county in the run-up to and during the war. The skies around Charlbury were busy with air traffic passing over and near the town, both Allied and German planes. Peggy Bendle, who lived on the outskirts of town, recalled seeing bombers flying towards Coventry in November 1940: "Against the moonlit night sky, these aircraft were an awesome sight flying at low altitude, their ominous grey shapes almost wing to wing leaving shadows on the ground and parallel trailing lines of vapour…".
One day in 1942 the war came very close to home when an Allied aircraft crashed in Fishers Lane near the bottom of Sheep Street, narrowly missing people and housing. The aircraft was a glider, of a class called Hotspur II, first designed and built in November 1940. Today we think of gliders as pleasure aircraft but in the war they were used for transporting troops and even jeeps and heavy machinery. The Hotspur was small, able to transport up to eight troops. The model fell out of favour as bigger gliders were built to transport larger groups of men and the Hotspur was relegated to training new glider pilots.
Edwin Glasgow, a well-known artist some of whose works we have in the museum, lived at the bottom of Sheep Street during the war. His grandson Martin Eagle has researched the history of the event. Martin wrote to us: "This aircraft was most probably on a training flight from the No.1 Glider Training School at RAF Croughton when it 'crashed in forced landing' into the next door garden to my grandfather's house, Deanehurst, (now known as Melody Cottage) at the lower end of Sheep Street. The date was August 17th 1942 which ties in with the fact that it narrowly missed my brother Roger in his pram in the back garden; he being born on St Swithun's Day, 33 days before." Tragically the air crew did not survive the crash.
After the war some of Oxfordshire's airfields became derelict (often still recognisable in the countryside by their crumbling runways), others were used for civilian traffic (Enstone) and some continued as military airfields, the most notable one locally being Brize Norton.
Charlbury Society talk: Thursday 6th January 8pm by Zoom
Trevor Jackson will speak on RAF Brize Norton: over 80 years of Flying Operations.
For full details see Events page.