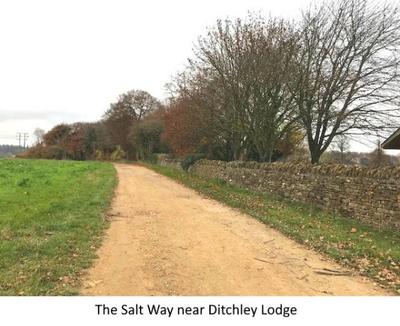 The History of Charlbury through .... the Salt Way
Judy Dod for Charlbury Museum
In modern Britain, salt is readily available and very cheap to buy, while we are encouraged to limit our salt intake for health reasons. Yet in the past salt was an extremely valuable commodity which was highly prized and helped shape society. Salt improved flavour in cooking and enabled food to be preserved The name of the Salt Way, a long-distance path which runs close to Charlbury, is a reminder of its importance.
Salt was transported long distances and inspired some of the earliest trade routes. Droitwich was an early centre of salt production. Under the Romans its name was Salinae. Underneath the town are natural salt springs arising from pure beds of rock salt deep underground. The very pure salt that was extracted was highly prized and led to the formation of trade routes which radiated out from the town. The Salt Way that passes close to Charlbury is one of these.
The Salt Way can be accessed via Hundley Way, the Ditchley Road or along the footpath by Dustfield Farm. In one direction the track heads north towards Chipping Norton and then on through Gloucestershire and Warwickshire to Droitwich, while in the other direction it goes to Stonesfield and on to join Akeman Street. Salt was carried by pack horses and also transported by river. The Thames offered a good route to London which required huge quantities of salt for its growing population.
Before the Norman Conquest, various charters refer to salt streets, salters and fords (Salford is spelt Salteford in an Anglo-Saxon charter). The Domesday book names 68 manors which had the right to receive a certain amount of salt, including Rollright and Bampton in Oxfordshire.
Salt provided a valuable source of taxation for governments. In medieval times, the Droitwich salt springs belonged to the king and the town was charged an annual rent for using them. Roman soldiers were given an allowance of salt called a 'salarium' from which our word 'salary' derives. In 1930 Gandhi led a non-violent protest against the British salt monopoly in India and began the process which led to the overthrow of British rule in India.
The Salt Way today is a pleasant, quiet track, much used by walkers and cyclists. The next time you walk there, remember the pack horses who carried their valuable cargo along it for so many centuries.
Thursday 2nd December Charlbury Society members talk on Zoom 7.50 for 8pm
Dr Janice Kinory: The Production, Distribution and Usage of Salt in prehistoric Britain
To join the Society email treas.charlsoc@gmail.com