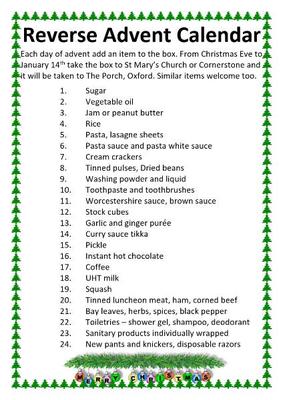 Reverse Advent Calendar - A way of bringing Christmas hope to homeless people in Oxford.
You are invited to join Churches Together in Charlbury in making a reverse advent calendar. 
Wrap a box in Christmas paper and every day of Advent place an item into the box.
The list of 24 useful items to include is also available from St Marys Church and Cornerstone. 
Bring your filled box to St Mary's Church or the Cornerstone at the Corner House between Christmas Eve and the middle of January and they will be delivered to the Porch in Oxford. 
For more information email parishoffice@charlburychurch.uk 
Many thanks