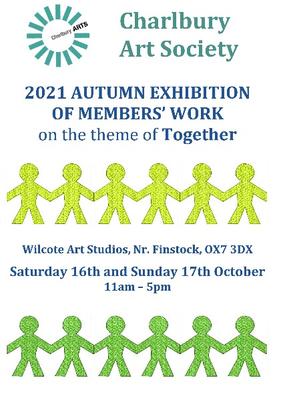 Charlbury Arts is exhibiting at Wilcote Art Studios
Charlbury Arts is holding its autumn exhibition at Wilcote Art Studios just outside Finstock. The theme for the show is Together and 30 local artists have contributed one or two pieces inspired by this theme. 
 Wilcote Art Studios is home to a group of Oxfordshire artists. They work in studios built at the edge of Topples Wood which is part of the ancient Royal Hunting Forest of Wychwood. 
The exhibition will be in the new gallery space at Wilcote and will include over 50 pieces of work by Charlbury artists. These include painting, printmaking, sculpture, ceramics and photography. 
Additionally, many of the fifteen Wilcote artists will be showing their work. Since 2015 their community has gradually grown; it now includes painters, sculptors, ceramicists, jewellery makers, makers of sound-art and installation artists. 
The exhibition will be on Saturday 16th and Sunday 17th October from 11-5 each day. From the Plough Inn in Finstock follow the road to Wilcote and the entrance is on the left after one kilometre. OX7 3DX There is ample parking.
https://wilcoteart.wordpress.com
Tony Lloyd · Wed 13 Oct 2021, 08:06 · Link