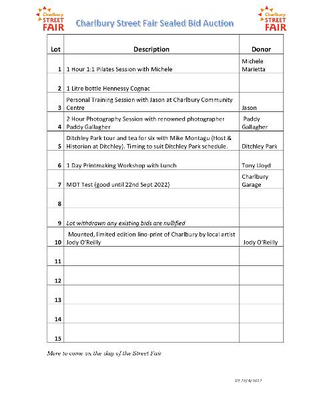 Charlbury Street Fair Auction
This year, the Charlbury Street Fair 2021 silent auction will be on a blind bid basis. This is because of a certain amount of controversy over cut off times and some difficult issues that arose two years ago. We are hoping to add a few more items before Street Fair Day arrives, but in the meantime this is the current version of the lots.

There are two ways of bidding. Either in person, at the Charlbury Street Fair stall on Sat, 18th September, or via email to auctioncsf@gmail.com quoting the lot number, your name, your telephone number and the amount bid.
People may bid as many times as they wish for any one item, but we will always take the highest amount bid.
The cut-off for in person bids is 5pm on Saturday, 18th September 2021. Email bids must be sent by 11pm on Friday, 17th September 2021, although a little leeway may be given at the discretion of the Street Fair Team.
The winner will be the person who put in the highest bid for an item by the cut-off time. In the event of two equal bids being placed, then the winner will be chosen among them at random. The winner's name will only be published with their agreement.
Note that the Street Fair reserves the right to withdraw lots in exceptional circumstances, and that the placing of a bid does not amount to a contract between the bidder and the Street Fair.
If no bids are received for an item, the Street Fair reserves the right to add them to the raffle prize list at the discretion of the appointed officers.
The list of lots will also be maintained on the CSF news web page.
Steve Jones · Tue 14 Sep, 19:09 · Link