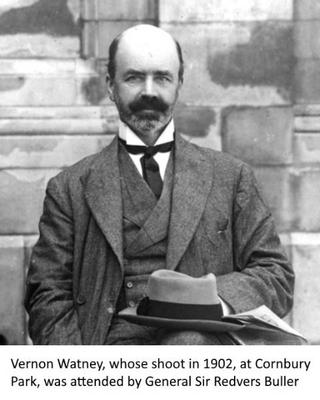 The History of Charlbury through ... a photo and a court case
Ann Lovett for Charlbury Museum
In the Museum, amongst the display of the Fire Brigade, is a photo of General Sir Redvers Buller V.C. Sir Redvers was a British Army officer who had received the Victoria Cross for bravery under fire, by rescuing fellow soldiers, during the Anglo-Zulu War of 1879. He later served in the 1st Boer Wars. He seems to have been popular with the troops and the public. In 1896 he was made a full General. Then, in 1899, aged 60 and after several years not seeing active service, he was sent as commander in chief on the outbreak of the 2nd Boer war. When this War did not go well Sir Redvers was sacked. He returned home to his family estate near Crediton in Devon. He died in 1908.
So why, you might ask, is there a photograph of him in the Museum?
It seems he was a friend of Vernon Watney, who had moved to Cornbury Park in 1902. Vernon Watney's wife was from an estate in Devon, not far from Crediton. Some years later Sir Redvers' nephew Mowbray Buller, married Vernon Watney's daughter Silvia.
In 1902 the Watneys had a shooting party, to which Sir Redvers and his wife were invited. He was given a public welcome by local inhabitants, including the Fire Brigade, formed in 1881 by Captain John Waller of Lee Place, which formed a guard of honour and escorted him to Cornbury. Sir Redvers had spoken to Captain Waller of the good impression the Fire Brigade had made on him. Afterwards Lady Buller sent Captain Waller a signed photo of Sir Redvers as a memento of the visit. Captain Waller had this framed and hung in the Engine House.
Later, in 1926, the Fire Brigade, after raising the money, had acquired a motorised engine and moved to larger premises, forming a new Brigade. Captain Waller, now of the Priory, wanted the photo, and a certificate the brigade won in a tournament in 1895 at Blenheim, returned to him, and sued the present brigade for them through their Chief Officer, Mr B Luker. There was a counterclaim asking for the return of a silver cup presented by Capt Waller's daughter, Ida, and a bugle which Capt Waller had presented to the Brigade.
So, on the 24th June 1932, the case came to be heard at Chipping Norton County Court. The Oxford Times reported on the proceedings. After a hearing of almost five hours, with claims and counterclaims, judgement was given that the Brigade would continue to hold the photo and certificate, whilst Capt Waller retained the silver cup and bugle.
The photo was given to the Museum, along with other Fire Brigade mementos, when the move was made to the current Fire Station.
Captain Waller died in 1934 aged 94.