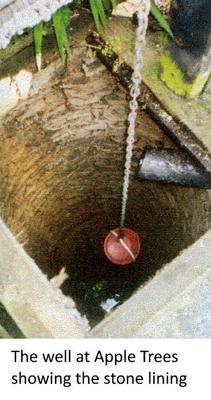 The History of Charlbury through ... a clean water supply
Judy Dod for Charlbury Musesum
During this week's heatwave we have depended even more than usual on our water supply – for drinking, showering, and filling paddling pools. It is easy to take clean water for granted but for much of the past there was no reliable supply to the town. People got their water from wells, either their own or from a communal well. Some still exist in the older houses (many of you will know the one in the Rose & Crown), lined with stone and now often dry.
With only limited organised drainage, well water could become contaminated, raising health concerns. Mr Horniblow, who had premises in Sheep Street, complained in 1892 "… there is no properly constructed drainage, owners of premises have been allowed to turn in some instances what sewage matter they like into the surface water drain …. Another mode employed of ridding sewage has been to dig cess pools in the public streets … consequently ... our drinking wells are fouled and the water supply generally is bad".
Various schemes to improve matters came to nothing until Arthur Albright stepped in. Though no longer living here, he generously subscribed £1,250 to the new town waterworks. A limited liability company was set up and the work was carried out by Mr Baughan. On September 19th 1896 the new waterworks were opened on Wigwell. Water from several springs was collected and pumped into two tanks holding 45,000 gallons of water on land near the Ditchley Road. Stored 100ft above the level of the town, water flowed by gravity along the main streets through earthenware pipes. Nineteen hydrants were placed around town for use of the fire brigade. 
The opening of the waterworks was an occasion for great celebration. The church bells were rung, the fire brigade put on a display, and Mr Albright travelled from Birmingham for a special dinner in his honour. The next day a special ladies breakfast took place, and 300 children attended a tea in the afternoon. The following Monday he invited the workmen, the adult school band, the bellringers and men who hadn't taken part already to a 'substantial repast' in the town hall and the evening was rounded off with a concert. 
Despite the new supply, many wells continued to be used into the 1930s.  In the 1960s water from Oxford replaced the spring water to meet the demands of the growing population, and then in the 1990s Thames Water replaced the earthenware pipes with blue plastic piping. 
Do you have a well on your property?  We would love to hear from you if you do so we can build up a picture of where and how many there were.