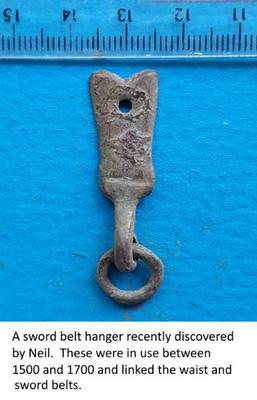 The History of Charlbury through ... a love token, three musket balls and a blowtorch!
Judy Dod for Charlbury Museum
Living in Charlbury which has been settled for hundreds of years, you never know what you may unearth when working in your garden or extending your house. Maybe a clay pipe, a metal token, pieces of pottery …. there are endless possibilities. We may turn these up by chance but Neil Pakenham-Walsh has revived a boyhood passion and has taken his metal detector around town seeing what he can find. Several residents have allowed him to explore their gardens and he has made some really interesting finds. Some of these Neil and the homeowners have very generously donated to the museum and are now on display. Though small, they have fascinating stories to tell.
Coins are a fairly common find but this is particularly special. A George III 1818 silver sixpence, it is bent and has initials stamped on it (?I/T), showing it is a love token. In the 1800s it was common for a suitor to give a crooked sixpence to his sweetheart. It's said that sometimes the suitor would bend the sixpence in front of her to show his strength!
Then there are three musket balls of differing sizes, two white and one darker. Musket balls were in use from about 1550 to 1800. It's not possible to date these, but they may relate to the English Civil War 1642-1651: there were skirmishes all over the country and there was a Civil War battery at Cornbury Park. Whitening of lead occurs due to oxidation, which progresses through time. The dark ball is therefore likely to be more recent than the others. The side of the small white ball is flattened, suggesting impact. The larger ball is likely to have been fired by a musket (a muzzle-loaded long gun), the two smaller balls probably from hand-held pistols.
The last item is a name plate from a blowtorch from the 1880s. It was made in New York and probably had a copper fuel tank with a brass pump, handle and fuel cap, with a cast brass or bronze burner. Interesting that workmen in Victorian Charlbury were using tools imported from America.
These and other local finds are on display in the museum. We reopen from Saturday 3rd July: Saturdays 10.30-12.30, Sundays 2.30-4.30. Covid precautions are in place to ensure your safety and that of our stewards. Please wear a mask when visiting.
With many thanks to Neil and the homeowners on whose property these items were found. Neil is always glad to hear from residents willing to let him look over their property neil@hifa.org