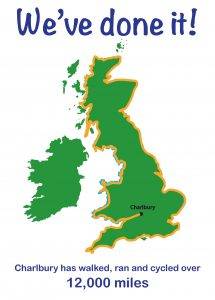 Charlbury walked round the British coast!
We've made it!

 Keep Charlbury Active
The challenge, set by Charlbury Community Centre, was  to walk, run and cycle round the coast of mainland Britain by the time the Community Centre re-opens on 12th April. That's   11,120 miles! We have now done 12,007 miles, so we've achieved our target, plus a bit. In fact 12,000 miles is half way round the world and would get us to Christchurch, New Zealand as the crow flies. Well done everybody, we were delighted by your response to this, and had no idea at the beginning whether this would be achievable. This has all been done since the beginning of this year. Amazing.

What's more, on the way we have collected 150 bags of litter, weighing 476 kg!
Charlbury Community Centre · Mon 12 Apr 2021, 08:26 · Link