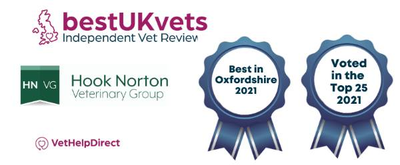 Hook Norton Veterinary Group awarded Best in Oxfordshire in the Best UK Vet Awards 2021
Hook Norton Veterinary Group has been crowned Best in Oxfordshire in the Best UK Vet 2021 Awards, after achieving the most top-rated client reviews over the past 12 months in this category. They have also been voted in the Top 25 in the UK. Vet practices across the UK have been taking part, encouraging pet-owners to leave reviews on www.VetHelpDirect.com and www.Any-UK-Vet.co.uk.
The award reflects dedication to customer service and outstanding care, with over 100 four and five-star reviews. Comments left by happy clients include: "All of the vets at Hook Norton are brilliant, knowledgeable, friendly and always happy to answer my questions. I always feel in good hands and feel supported no matter what the drama is! I would highly recommend them!"
Unsurprisingly the practice is thrilled with the result and Will Oldham, Practice Director, commented "We are over the moon to have won this award, and to have been placed in the Top 25 of the UK. Being an independent veterinary practice, it's excellent to know that our clients value the hard work and effort everyone puts in. We strive to offer the best veterinary care and advice, and we are able to do this because we have such a wonderful and dedicated team. From our vets, nurses, front-of-house reception teams, to everyone in the background working tirelessly to keep the machine moving, they ensure that we will always be here for our clients and their animals when they need us most."
The awards organised by VetHelpDirect.com and running for the ninth year, are based on genuine pet owner reviews of veterinary practices around the United Kingdom and count up the number of online four and five-star reviews from their customers over the last year.
Susie Samuel, CEO of VetHelpDirect.com commented: "Choosing the right vet is an important and difficult decision for a new owner. Vet practices are all very different with their own unique characteristics and it can be challenging to understand all those differences and find the best match. This is why hearing from existing clients via online reviews is so helpful; many of the reviews describe detailed stories of first-hand experiences which helps owners get a really good feel for the practice. BestUKVets is a lovely opportunity to reward the practices that are at the top of their game".
The overall UK winning practice was Cockburn Veterinary Group, in Leicestershire. Silver was awarded to Millennium Veterinary Practice, in Braintree Essex and Bronze to Streatham Hill Veterinary Surgery, London.
Verity Ramus · Wed 7 Apr 2021, 14:14 · Link