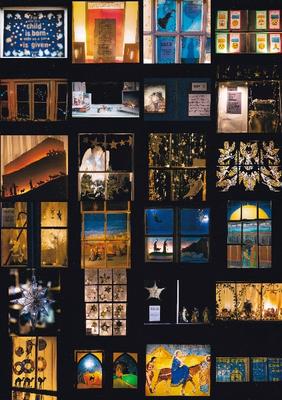 Advent Windows
St Mary's Church completed the Advent calendar on Christmas Eve by illuminating the 24th window. 
The Nativity Story has been built up day by day throughout December. Participants have created an illuminated display in a window of their home or business. One more was revealed each day during Advent, opening in a random location as it does in an Advent calendar. 
Sally Welch said "I am delighted that St Mary's and the Art Society have worked so successfully together on this project. They have brought light into a rather dark December for the whole town". 
Each window contains its day number and the relevant Bible verse. Windows will be lit up from 4 p.m. until 7 p.m. each evening and they will remain lit between these hours until Twelfth Night.
Although some of the events we know and love have not been able to take place this year, new ones such as Advent Windows and the Christmas Tree lit path have replaced them and may, perhaps, become future Charlbury traditions. 
A map showing the locations of all the windows is available to download on the Events page of this website together with images of all the windows.
Tony Lloyd · Thu 24 Dec 2020, 16:10 · Link