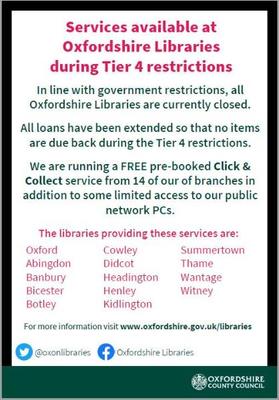 Tier 4 - Charlbury Library Closed
Charlbury Library was due to reopen after the Christmas period but as we will now be in Tier 4, all of Oxfordshire's Libraries will be closed until restrictions are eased.  There will be no quarantine crates available to return items to but all return dates for items on loan will be rolled forward until April.  Therefore, items currently out on loan (and not already overdue), will not incur any fines.  Please see the attached poster for more information.
Wishing all of our customers a safe and peaceful Christmas.
Julie Ward · Wed 23 Dec 2020, 17:13 · Link