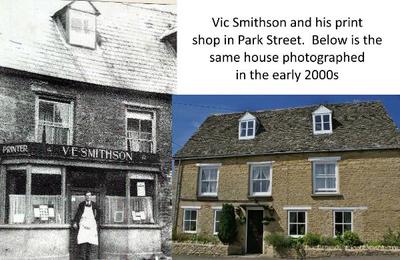 The History of Charlbury through .... The Parish Leaflet 1940-2020
Janet Jeffs for Charlbury Museum
In 1940 Charlbury experienced food rationing, the departure of the Durhams for France in the British Expeditionary Force, the return of survivors from Dunkirk, victory in the Battle of Britain, and the distant glow from the bombing of Coventry. The town was full of troops and evacuees. And the first edition of the Leaflet was published. The new Vicar, the Reverend T J Wood, announced in December that the Church Council had decided to start a "Parish Paper", to be sent to every house in the parish to provide a way of keeping people in touch with what was going on locally, including C of E services. Donations were invited towards the cost.
750 copies of the "Monthly Parish Paper for Charlbury with Chadlington, Shorthampton and Chilson", No. 0, were distributed in December 1940. It contained a letter from the Vicar, meeting dates for the Girls' and Boys' Clubs and the Ashford evacuees' Club; and an invitation to the troops to use the Red Triangle Club and the YMCA Canteen for recreation and refreshment. Mr Wood wrote "We are passing through one of the greatest crises of human history".
The January 1941 edition (No. 1) announced the start of a new Girl Guide Company, meeting in the School on Tuesday evenings. 79 years later the Winter 2020 Charlbury Chronicle announces the latest new Girl Guide Company.
The archives form an encyclopaedia of Charlbury's social history, including church clock repairs, family news, brief obituaries, children's exam results, programmes for future events such as the Festival of Britain 1951, proposals to cut down some Playing Close trees in 1954, planting of a Scarlet Oak tree in Nine Acres to commemorate the 1953 Coronation, and changes in education.
It was in 1949 that the Parish Paper became "The Leaflet", and in 1963 Chadlington was separated from the Charlbury Parish. With the founding of the Charlbury Council of Churches in 1964, all churches in Charlbury began to include information regularly in The Leaflet. The printer for many years was Vic Smithson of Park Street, a regular member of the church choir, who printed hundreds of Charlbury posters and leaflets.