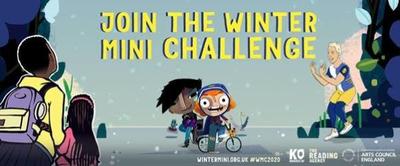 News from Charlbury Library - The Winter Mini Challenge
The Winter Mini Challenge is back!
This year The Reading Agency has partnered with Knights Of children's publishers to encourage children to keep reading during the holidays by taking part in the Winter Mini Challenge.
The challenge runs Tuesday 1st December 2020 to Friday 15th January 2021.
The theme is "Everyone is a Hero".
The Reading Agency news update is at: https://summerreadingchallenge.org.uk/news/general/winter-mini-challenge-20
How to take part
Similar to the Summer Reading Challenge, the Winter Mini Challenge is online so children need to be registered on the website: wintermini.org.uk
Then children choose a reading goal (recommended challenge is at least 3 books).  To complete the challenge, they need to read, rate and review their books on the website before the end of the challenge – they can choose any books, eBooks or audiobooks they like. 
Rewards will be unlocked as they add their reviews, including a limited-edition virtual badge and a Reading Hero certificate they can print out and keep.
There will also be a curated collection on Overdrive of eBooks and eAudio, including books recommended by Knights Of publishers. 
The Winter Mini Challenge website will have activities, recommendations for great winter reads, and competitions.  As part of the Challenge, The Reading Agency will also invite people across the country to nominate their Reading Heroes on social media – keep an eye out for more details.
Charlbury Library · Fri 27 Nov 2020, 14:56 · Link