Charlbury Garden Society Virtual Annual Show Results
Drum roll please... after months of careful deliberation, we can finally announce the results of the Charlbury Garden Society Virtual Annual Show!
The Annual Flower and Produce Show is normally the highlight of our events calendar, with entries for flowers and vegetables in abundance. Although this year the gardeners of the town have not been able to show off their excellent growing skills by packing a room full of their bounty, the absence of a live venue has not stopped them from showing their best efforts.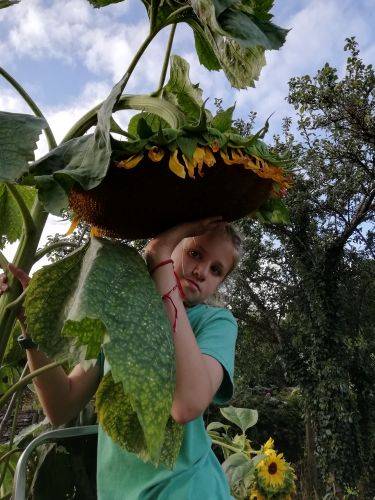 See the Charlbury Garden Society website for the photos and full effect!
http://www.charlburygardensociety.org.uk/virtual-annual-show/
There were entries for five of the six categories:
1. A Perfect Flower
8 people submitted photos of very beautiful flowers over the summer. This was a sharing category rather than a competition.
2.  Tallest Sunflower – 9 entries
Winner: Nick Johnson with a sunflower of 10 ft 8 in.
Nick just edged out Matt Wells, whose bloom was 10 ft 6 in.
3.  Tallest Hollyhock – 5 entries
Winner: Angela Gwatkin with a hollyhock of 11.7 ft.
Angela edged out Lesley Algar whose bloom was 11.6 ft.
4. Largest Vegetable – 1 entry
Winner: Roman Kopinski (age 9) whose pumpkin was impossible to measure.
5. Longest Vegetable – no entries
6. Oddest-shaped Vegetable – 4 people sent in a total of 7 vegetables.
All were so entertaining that we were unable to pick a winner.
Thank you to all the participants. We hope that next year we will be back in the Hall with the tables full of flowers and produce!
Kathy Broughton
Geneviève Hug · Mon 2 Nov 2020, 11:31 · Link