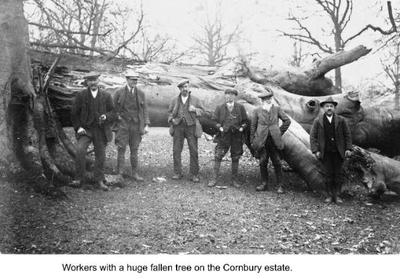 The History of Charlbury through ... the Wychwood Forest
Judy Dod for Charlbury Museum
Today we refer to the area of woodland between Charlbury, Finstock and Leafield as the Wychwood Forest but this is but a small remnant of what was once one of the biggest royal forests in the country. Under William the Conqueror large tracts of land became subject to Forest law which protected the deer and their habitat for the king's use. Medieval forests were by no means all wooded and included settlements and areas often belonging to landowners other than the king.
Wychwood Forest reached its greatest extent under Henry II in the late 12th century when Charlbury was well within its boundary. The Forest later split into three areas, one of them concentrated around Cornbury, and gradually reduced in size. By the mid-1800s only 10 sq miles of royal forest remained and these were taken out of forest law in 1853 by Act of Parliament. Land was enclosed, cleared and turned over to agriculture.
Caroline Pumphrey, in her memoirs* remembered the disafforesting. "They had some mechanical contrivance by which they pulled up all but very big trees by the roots. There were wild deer in the forest in those days and badgers and otters and such like. There were no roads across the Forest then, only grassy tracks……..In those days [the late 1840s, 1850s] the Park was much more open to the public than of late years…. Old women used to go to the Park to pick up firewood. …. Tea in the Forest was a frequent summer pastime. We used to have it under the tree on the brow of the hill overlooking Newell Pond… We picked up sticks to make a fire and had great fun. The ponies used to be kept very busy going to and fro to bring the party."
Bill Campbell (b.1905) was brought up in Cornbury where his father was Head Gardener to the Watney family. He recalled that the forest was full of red squirrels, while redstarts nested on the family cottage and swallows, spotted flycatchers, barn owls, snipe and woodcock were regularly seen.
Wychwood today is the largest area of ancient woodland in Oxfordshire. The central part is a National Nature Reserve with over 360 species of flowering plants and ferns, and most of the rest is a Site of Special Scientific Interest.
* Caroline Pumphrey: Charlbury of our Childhood. 1990, Sessions Book Trust
See also Discovering Wychwood  Ed.Charles Keighley. 2000, Wychwood Press
Charlbury Society talk on the Wychwood Project Thursday 1st October 8pm
Neil Clennell, CEO of the Wychwood Project will give the season's first talk via Zoom.
 He will talk about what the project hopes to achieve by encouraging us to understand, conserve and restore the varied landscapes and wildlife habitats of the area. 
Not yet a member of the Society?  Please contact Susan Merry, susanmerry2@gmail.com to join and attend the meeting via Zoom. Annual sub £8.50/£17 single/joint membership