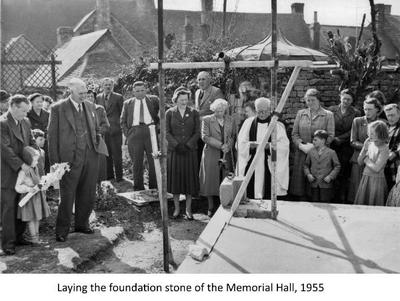 The History of Charlbury through .... the beginnings of the Street Fair
Janet Jeffs for Charlbury Museum
Fund-raising had begun before 1945 for the war memorial tablet in St Mary's Church and a War Memorial Hall. So when the Corner House was presented to the town in 1949, its garden was chosen as the ideal site for the Hall. A committee set up in accordance with the Corner House trust deed included representatives from the Parish Council, Red Triangle Club, St John's Ambulance Brigade, the five Churches, the Dramatic Society, British Legion, Tennis Club, Old Time Dance Club, Charlbury Charity Cup and the Choral Society. They all set about raising money through brains trusts, bazaars, quizzes, keep fit classes, spelling bees, and a house to house collection.
In 1955 the Leaflet announced a Street Fair in Church Street in aid of the War Memorial Hall, on Saturday 24th September 1955. The Fair raised £140, and the proceeds increased every year, rising to £10,000 in more recent years. Eventually the Foundation Stone was laid by Mrs Watney of Cornbury on 21st April 1956, and the Opening Ceremony was held on 1st December 1956, chaired by Mr Watney who had contributed generously to the Hall fund. Street Fair proceeds still make a major contribution to the maintenance and improvement of both the Corner House and the Hall.
Charlbury Street Fairs bring people back home to meet old friends and family. Photos over the years illustrate Charlbury people's love of fancy dress, the children's processions in the afternoon, and (in the past) the long evening processions of floats from the Scout Hut round to Church Street. There was fierce rivalry between local groups about the design of floats for the evening procession. Intensely secret preparations took place in various barns, and the Cricket Club could always be relied on to spray water on the crowd. Regular dressers-up in included Mrs Claridge, Sam Godden, the Kearseys, Baldwins and generations of children. Do you remember hoop-la, dances in the street, huge steam organs playing loudly, vintage cars, cuckoos in the nest in shop windows, wheelbarrow, pram and slow bicycle races, bowling for the pig, hot dogs from the butchers, fish and chips from Market Street, egg throwing, and the odd celebrities to open the Fair?
It has taken a global pandemic to halt the 2020 Street Fair, despite all the careful preparation by the committee. Let's hope that 2021 will bring better news for us all.