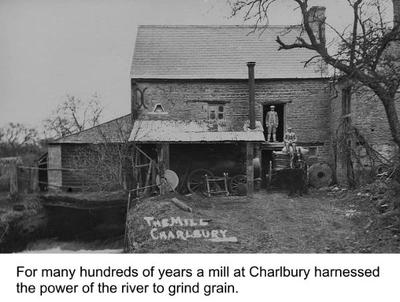 The History of Charlbury through ... the mill stream
Barbara Allison for Charlbury Museum
When we consider the oldest structures in Charlbury, we probably think of St Mary's Church, or perhaps an ancient house like the Old Talbot. But the Mill Stream has a claim to be one. Two mills were recorded here as early as 1269: one of those was Fawler Mill, and the other very likely to have been the mill at the end of Mill Lane (now demolished). These mills used water power, Charlbury's mill being described as a water mill in 1363, and the water flow was managed by making a 'leat' away from the river to provide enough power to turn a water wheel.
The earliest documentary evidence of the Mill Stream itself is on a sketch map of 1674. This map was made by George Tennant 'Mr George Tennant the Elder' on April 23rd 1674, and was done to estimate the size of the close attached to the Mill. His sketch, while rough and ready, is still a good match to the present day Mill Field as shown on our modern maps. The Mill Stream is shown as a smooth curve, which is an indication that it is not the river, but a man-made structure.
Charlbury Mill, its closes and its mill stream were owned by Lincoln College from about 1590 and leased out to a succession of millers. George Tennant probably drew the sketch for the College following the death of a miller, though we can't be certain which one it was. We get a glimpse of the Mill Stream in 1684. The miller, Robert Gladwin, had died. He owned 'One Old Boat' and the 'Grasse of the Mill Ham, worth £2 2s 6d –a lot in those days. His widow had to pay several men 12s 6d 'for mending the banks' –presumably of the Mill Stream.
There were mills at most of the settlements along the Evenlode: at Pudlicote, Ascott and Lyneham for example going west, and at Fawler and Ashford going east. If you look at maps of this area, you can clearly see the course of some of their mill streams. But not all of them survive. For example, Pudlicote Mill can be dated back to 1272, when 'Phillip at the Mill of Pudlicote' was imprisoned for stealing deer. But its mill stream has gone, only hinted at by the long causeway across the river and the vegetation along its possible route.
Happily, Charlbury has managed to preserve and care for its own Mill Stream.