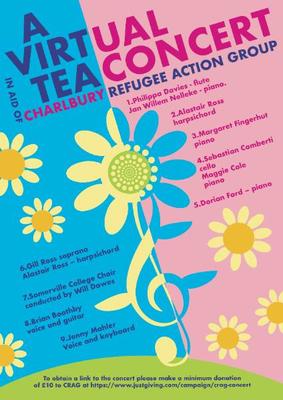 A virtual tea concert brought to you by Charlbury Refugee Action Group
During lockdown, 12 internationally renowned musicians well known to our CRAG audiences, including Margaret Fingerhut, Alastair Ross, Philippa Davies, Dorian Ford and Maggie Cole have donated special recordings to raise funds for CRAG. These have been combined into a fantastic concert of music ranging from Purcell to jazz and accompanied by beautiful videography and photography of Charlbury and Oxford.
This is NOT TO BE MISSED! It is a veritable treat, which you will be able to enjoy again and again! A link to the concert can be obtained by visiting https://www.justgiving.com/campaign/crag-concert and making a minimum suggested donation of £10.
It will be a perfect accompaniment to a freshly brewed cup of afternoon tea and a slice of your favourite cake. So, brew up and enjoy!
Vicky Buser · Tue 28 Jul, 17:35 · Link