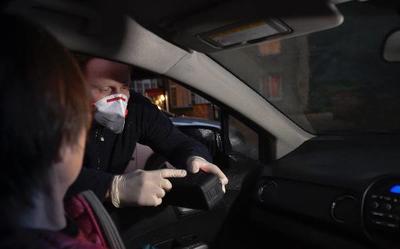 Local Pop-up Cinema company launches mini Drive-in
Charlbury based Portable Pictures has launched a bijoux Drive-in cinema package offering a Covid 19 safe party method even for the most vulnerable to enjoy! This bespoke set-up for up to 6 cars will allow you to have fun outside whilst keeping cosy and dry all year round. It's also neighbour friendly as the sound is kept to a minimum by being kept inside the cars. We've had lots of fun trialling it and love the film bubble it creates – it's quite addictive.
"We've lots of interest in our mobile cinema hire for outdoor parties now that people can meet up again , but we hope this provides a unique and thoughtful socialising environment for those wanting more safety." Brek Taylor, co-owner of Portable Pictures. 
To help launch the service and spread the word of what we're doing the first 5 bookings will receive a 50% discount so why not email us at info@portablepictures.co.uk to find out if you're eligible?! More information is available at www.portablepictures.co.uk
Film ideas could include: Ferris Bueller's Day Off! Any Bond film, Ghostbusters, Back to the future, Baby Driver, Thelma and Louise, Rush, Cars...
Brek Taylor · Thu 25 Jun 2020, 14:26 · Link