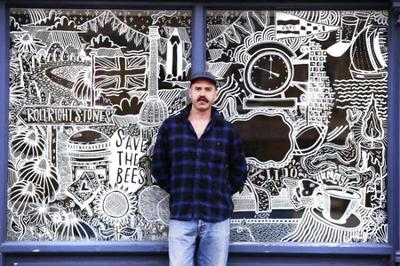 New mural in Chipping Norton
A beautiful new mural has been painted in the windows of the former Beale's store in Chipping Norton. From the Oxford Mail: 
A GRAPHIC artist who has previously worked for Nike has created a mural in his home town.
Luke Embden, 38, has been working on the piece from inside Beales since Thursday.
He said: "The idea stems from the pandemic situation, as I came back from Berlin to Chippy for my dad's birthday, and then should've gone to Amsterdam for work but ended up getting trapped back here.
"Being born and raised here, I wanted to give something back to the community. I reached out and Georgia Mazower has been very supportive in making this happen.
"The idea then grew from the store being vacant, it had been here years and was iconic. I wanted to create a piece of work that tells the story of Chippy and the iconic buildings. Hopefully it will lift morale and community spirit.
"People can walk past as I'm on the inside, painting to the outside, so we're able to conform to social distancing. Hopefully this will be a push for other creatives to use these empty shops windows."
To see more of Mr Embden's work, please visit: lukeembden.co.uk
https://www.oxfordmail.co.uk/news/18532056.luke-embden-creating-mural-chipping-norton-beales-window/
Jonathan Mazower · Wed 24 Jun 2020, 17:14 · Link