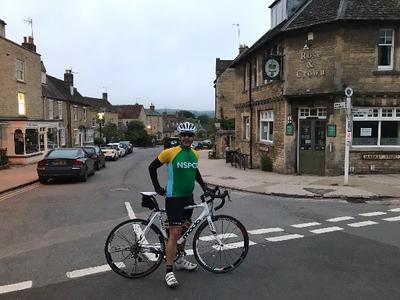 210-Mile Chase The Sun Charity Cycle Completed
Dear Charlbury 
As many of you are aware I completed my 210-mile Chase The Sun cycle challenge in aid of the NSPCC on Saturday. A massive thank you to all who came out to support me by the Rose & Crown throughout the day and especially to those of you who donated. 
I have raised £1,774 so far via online, contactless and cash donations, but am still £326 short of my £2,100 target.
I am leaving my JustGiving page up until the end of June so whether you have or haven't donated already PLEASE give whatever you can to a fantastic charity here:
www.justgiving.com/fundraising/Jos-Foulston
Every pound counts. If you want to give cash please give it to Tim at Cotswold Frames to pass on to me.
...and finally some public thank yous. To my wonderful wife, Olivia, for running our booth on the day and for putting up with my endless absence from home whilst on training rides; to Tim's wife, Amelia, for being a mega training partner over hundreds of miles and for riding the final 70 miles with me and finally to Tom, Nikki and James at the Rosie for all their support and letting us base ourselves at their door for the day.
Thank you Charlbury, it was epic.
Best wishes 
Jos x
Jos Foulston (CBY Music Club)
Jos Foulston · Mon 22 Jun 2020, 18:49 · Link