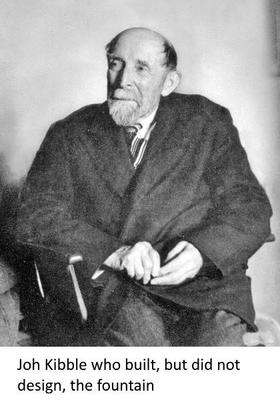 The History of Charlbury through ..... the Playing Close Fountain
The Fountain on the Playing Close is a familiar landmark in Charlbury, and the Museum holds the original plans for its design. Its little plaque which states that the fountain was designed by our local stonemason needs correction: he built it but he did not design it.
Queen Victoria was to celebrate her Diamond Jubilee in 1897, and there was discussion in Charlbury about how to mark the occasion. A drinking fountain was suggested, and people were invited to subscribe. Then Mr Harvey Du Cros, the owner of Cornbury at the time, offered to pay for the whole thing, and a committee went ahead to plan it. At a public meeting in 1898, the Playing Close was chosen as the site by 68 votes to 27.
The committee decided to choose a design by open competition, and there were so many replies from architects that the return postage of the rejected designs amounted to £2 14s. The design of Mr A H Gough of Bristol was unanimously accepted, and Mr John Kibble, the Charlbury stonemason whose design had been rejected, was invited to build his rival's design. The fountain was described as "a handsome carved octagonal structure in Bath stone, with six arches and drinking cups, and drinking places for dogs round the massive base, the whole surmounted by a handsome lamp". The total cost was £193 16s 11d.
This was quite a bargain, as the fountain commemorates three events: the brief visit of Queen Victoria to Charlbury in November 1886 when she paid a visit of condolence to Lady Churchill at Cornbury; the provision of a water supply for the town in 1896; and the Diamond Jubilee of the Queen's accession on 28th June 1897.
The formal opening of the fountain took place in August 1900. In honour of the event the church bells rang, the town was dressed with flags, and the town band paraded the streets. The Fire Brigade in uniform formed a guard of honour, and most of the Parish Council were present. Mr Du Cros presented the keys to Mr Gillett Smith, Chairman of the Parish Council, and the ceremony ended with cheers and the national anthem.

Janet Jeffs