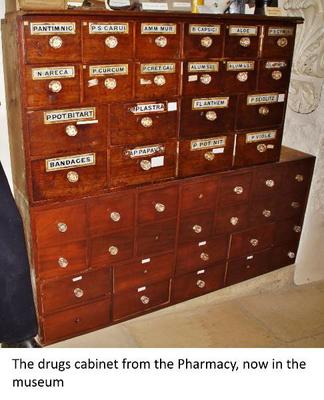 The History of Charlbury through ...... a robbery at the Pharmacy
We love to receive information from people who can add to our knowledge of the town's history. Following last week's piece about the Pharmacy, Andrew Shaw, of Shaw & Co lawyers in Church Street, got in touch. He told us that his father, who already owned a chemist shop in Woodstock, bought the Charlbury business in 1982. Andrew wrote:
"Fred Perkins, a dapper man with a bow tie, actually owned the Chemist shop twice. He retired to Guernsey but discovered that he had retired too early. The business came available again and he purchased it back and returned to Charlbury. In 1981 he approached my father T C Shaw the chemist in Woodstock and asked if he would like to buy the business. My father did and then owned both the Charlbury and Woodstock Chemists from 1982 until he retired and sold both businesses in 1989."
Andrew also shared his memory of a dramatic robbery at the shop:
"Charlbury Pharmacy hit the national headlines on the BBC during my father's ownership: the Dispensary was broken into one night by people looking for drugs etc. The controlled drugs safe was forced and cleaned out. Very often controlled substances were (are) passed down by one chemist to another and the Charlbury shop had piles of stuff going back to the 19th Century. There was some strychnine* in a bottle. It was only a very small amount however the BBC journalist got the decimal point in the wrong place and declared that there had been enough strychnine taken from Charlbury to wipe out most of Oxfordshire and beyond!"
Thank you so much Andrew for sharing this wonderful anecdote with us and for adding to our information about the Pharmacy.
* As well as being the drug of choice for Victorian murderers, strychnine was found in stomach remedies and also used as a laxative. It eventually proved ineffective as a medicine and was withdrawn from use. It was known to act as a stimulant and was used as a performance enhancing agent in sport. In the late 1800s cyclists, boxers, swimmers and runners would take strychnine tablets with mixtures of brandy and cocaine as part of their training. (Does that sound vaguely familiar …..?!). 
Judy
And check out the museum noticeboard in Market Street:Janet Jeffs has written a piece for the noticeboard about the Durhams and their evacuation from Dunkirk in 1940.  The Durhams were billeted around Charlbury early in the war and many made firm friendships with people in the town.