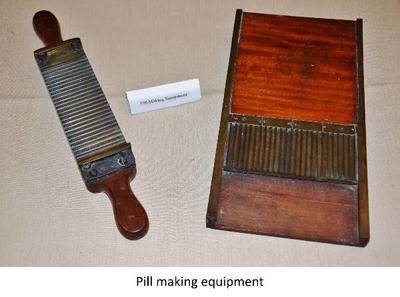 The History of Charlbury through ...... its druggists & chemists
Apothecary to Pharmacist
The term pharmacist was not in use at the beginning of the 19th century. One was an apothecary, chemist or druggist.
Charlbury had an apothecary in the late 18th century, Edward Lyster, who lived in Gothic House, Church Street. He advertised his isolation house, near Blandford Park (Cornbury), for smallpox vaccinations in Jackson's Oxford Journal in 1779.
After Lyster's death in 1804, George Horniblow lived at Gothic House. He was a doctor and surgeon and his son John was a chemist.
From 1858 to the early 20th century Thackwell Smith, and his son Gillett, were grocers in Church Street (now the Heat Store). In the photo in the Museum the sign over the shop reads FAMILY GROCER DRUGGIST PROVISION MERCHANT. At this time anyone could trade as a druggist or chemist.
The Pharmaceutical Society of Great Britain was formed in 1841. The Pharmacy Act of 1852 had introduced a register of chemists and druggists but it didn't stop others dispensing. There was no supply chain other than ingredients and patent cures. The druggist prepared most remedies to their own recipes. The Museum has the scales used for weighing ingredients, the apparatus for pill making and details of some of the remedies.
Albert Jull is in Kelly's Trade Directory in 1911, as a chemist in Market Street in what is now the Pharmacy. He was still there in the 1939 Register. He was followed by Messrs Perkins, England, France, Vincent and now the Coop. Do let us know if you are aware of any others.
Today a pharmaceutical degree and training are required before a pharmaceutical chemist can be registered to practice. Many of the tablets come in blister packs and sealed bottles. There are many tests and trials that medicines need to pass before they are deemed safe for use.
The Pharmacy has been in its position in Market Street for over a hundred years. Along with the pubs, one of the businesses to occupy the same premises for the longest time in the town.
Ann Lovett