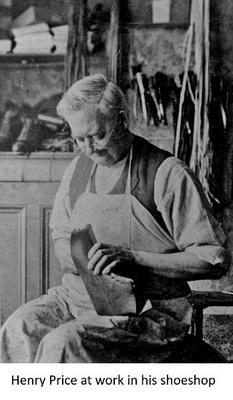 The HIstory of Charlbury through .... shoes and shoemakers
'Well Shod'   Boot & Shoe-makers of Charlbury
A precious pair of child's shoes made by a Charlbury shoe-maker and the mystery of hidden shoe heels found in a cottage inspire this week's story.
Stepping back in time to Charlbury in the late 19th century, customers in need of walking boots or shoes had a choice of several shoemakers. The Charlbury Directory for 1884 lists Robert Parrott, F. Kerry and B. Luker's Boot Warehouse in Market Street; Joseph Stayte in Sheep Street and Henry Price, Church Street. Working men's boots were in particular demand: laced, hob nailed, with low stacked heels in tough leather. Boots made for walking to work, repaired regularly in the shoe-makers workshop.
Henry Price's story resonates through his shoe-making tools, notebooks, boots displayed in the museum. A legacy kept alive by his grand-daughter, Jennifer Bartlett, who describes a very special pair of shoes:
"I remember being shown Aunt Lizzie's shoes when I was quite small, by Uncle Chris and Auntie Alma in their shoe shop in Sheep Street. My Grandfather, Henry Price made the tiny leather shoes, embellished with a velvet rosette and pearl button, for his first born child Elizabeth Jane in 1880-81. Recently married, Henry and Edith moved to Myrtle Cottage, Church Street in 1879; his shoe-making workshop was at the front of the cottage, the back room was my Grandmother's sitting room. Myrtle Cottage was home to their nine children, my father Sidney was their youngest child."
Christopher Price continued his father's trade (see photo), later opening a shoe shop, with his wife Alma, in Sheep Street. This last link with Charlbury shoe-making trade closed around 1981.
Finally, historic shoe stories can be tinged with mystery, as the 'concealed shoes' hidden in buildings to bring good luck or ward off evil spirits. Three wooden shoe heels were discovered under the attic floor boards of my old home, 11 Market Street, in the1980s (see photo). Although shoe-maker Bert Howse worked next door after WW1, these ladies heels have echoes of another age. The distinctive low 'louis' heel appears in the mid 18thc. A Georgian coin,1797, hidden next to the heels gives an extra clue. Perhaps another Charlbury shoe-maker's story waits to be revealed…………….
Sue Rangeley
With thanks to Jennifer Bartlett for the information on Henry Price and his family.
Info.: www.northampton.gov.uk/museums links to a new museum of boots & shoes