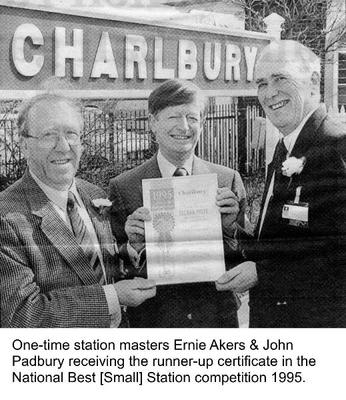 The History of Charlbury through ..... the railway station
Between 1830 and 1870, the years of 'railway mania', a vast network of railways was built across Britain, revolutionising the transport of people and goods, changing the landscape and the nation's way of life. The railway came to Charlbury in 1853, built by the Oxford, Worcester & Wolverhampton Railway company, chief engineer Isambard Kingdom Brunel. Always short of money, there were many delays before the line was finally laid. It had many problems, not least because of the varying gauges of the track, and the line was nicknamed The Old Worse & Worse. In 1863 the OW&WR company was part of Great Western Railway and the line gradually became more successful.
Today's trains are mainly passenger trains, many full of commuters, but in the past a huge amount of freight passed along the line and Charlbury was a thriving goods depot. A plan of 1882 shows a goods shed with office, cattle pens, loading bank, water tank for steam trains, and coal and sugar beet sidings. The gas works was sited alongside the station, roughly where the Forest Works are today. The whole site provided employment for many people – station staff, platelayers maintaining the track, workers in the goods yard.
Although the line survived Beeching's drastic cuts of the 1960s, in 1971 it was reduced to single track and again in the 1980s it seemed as if the line would close. Thanks largely to the efforts of the Cotswold Line Promotion Group it was reprieved and passenger numbers increased hugely. The line was partially redoubled in 2011 to help eliminate delays and the second platform was reinstated. Today the station provides a high-speed link direct to Oxford and London and is a major factor attracting people to live in Charlbury.
The station building is one of the few surviving stations built in Brunel's distinctive chalet architectural style: it was restored in 1979 and is Grade 2 listed, as is the early station nameboard. Until the line was singled, there was a 34-lever signal box, sadly demolished in 1971. We have the signal box sign on display in the wagon room of the museum.
Cotswold Line Promotion Group http://www.clpg.org.uk/
Judy Dod