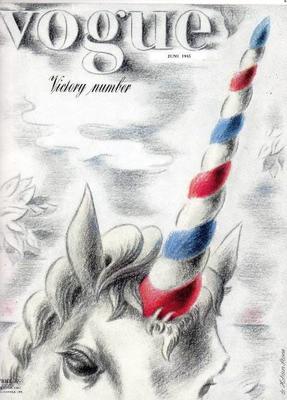 VE75 A VE Day Souvenir Scarf
This vibrant textile captures the euphoria of the VE Day celebrations, marking the end of the dark days of the Second World War. The design 'Lauriers de la Victoire' (Laurels of Victory) was the last of the 'propaganda' scarves made by Jacqmar in May/June 1945. Produced especially for the British 'Home Front', the scarf pattern shows a bouquet of flowers in the colours of the Allied Nations' flags. An advertisement for this scarf appeared in the 'Victory' issue of Vogue, June 1945: it cost 55s/10d and required two clothing coupons. (See photos)
From 1940 – 1945, Jacqmar, under the direction of their chief designer Arnold Lever created a series of 'propaganda' scarves. Due to the shortage of fabrics in wartime, parachute silk was sometimes used for prints and the new Rayon fabric became a popular alternative to traditional silk. The scarves were morale boosters, created for the export market and sweethearts at home. Each headscarf carried a wartime message, ranging from: 'Salvage your Rubber', 'Into Battle' , or 'London Wall' featuring war posters pasted to a wall – this scarf appeared in the 1943 film 'Millions Like Us', worn by a munitions worker. A personal favourite is 'We Shall Never Surrender', showing Churchill and snippets of his speeches; interesting that he was an avid collector of scarves himself! 
The scarf was owned by Charlbury resident, Mrs. Bridget Wastie; her daughter Val kindly loaned this unique piece for Charlbury Museum's exhibition for VE Day 75.
Examples of Jacqmar 'propaganda' scarves are in the Imperial War Museum
Jacqmar was started by Joseph Lyons in London, in 1930; his business flourished during the war years producing the 'propaganda' scarves for the war effort. 
Sue Rangeley