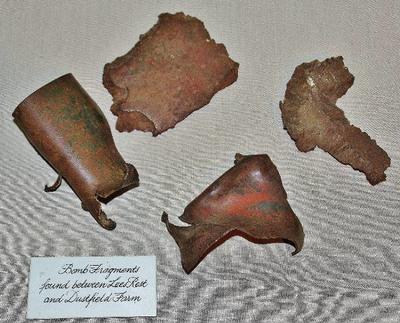 VE75 Remembering Charlbury's own 'Dad's Army'
In May 1940 Anthony Eden called for men to enrol in a new civil defence force, Britain's 'last line of defence' against invasion. Initially known as Local Defence Volunteers (LDV), the name later changed to the Home Guard. Members were usually men above or below the age of conscription and those unfit or ineligible for front line military service.
In Charlbury, 80 men responded to Eden's appeal and enrolled for duty under the command of Joe Shilson. He lived at The Priory, owned Shilson's the woolstaplers and had been a Captain in WW1. Command was later taken over by Mr. Osborne, headmaster of Charlbury School. The men came from a wide variety of occupations, among them farm workers, glovers, woolstaplers, a railway signalman, a welder, George Cox (the chauffeur from Lee Place) and Frank Jeffs, owner of the cinema.
Their headquarters was the Royal Oak Café in Church Street. Look-outs did duty from the Church tower, and vantage points such as Banbury Hill and Woodstock Road. During the months of greatest risk all-night guards were mounted, the men then going direct to work in the morning. In the beginning there were no weapons available but later uniforms and equipment were supplied and they went into serious training. They became a Platoon, with ranks comparable to the regular Army.
Not everything went smoothly! Training included being taught how to throw hand grenades: pull the pin, hold the clip, arm up and behind and throw with a bowling action and a straight arm. When Cyril Godden (nicknamed Sam) had his turn, he lifted his arm but dropped the grenade down his sleeve! Vic Brackenbury wrote::
"He only had 8 seconds before it went off. Sam started to dance – he shook himself, did a bit of jitterbug, a bit of blackbottom – at last it dropped down by his feet. The old sergeant dived on it and chucked it over the edge of the trench whereupon it exploded! It frightened old Sam and everyone else as well."
Cyril Godden ('Sam' in the story) is the first man on the left, third row, in the photograph. Mr. Osborne is in the front row, 5th from right.
Tomorrow: A special propaganda scarf produced to mark VE Day